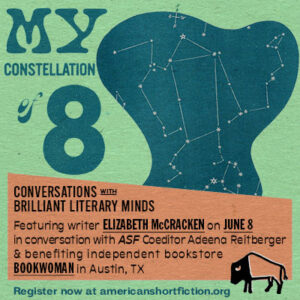 Join American Short Fiction for the latest installment of My Constellation of 8 on June 8th at 6:30 p.m., featuring award-winning author Elizabeth McCracken in conversation about eight of her literary influences with ASF's Coeditor Adeena Reitberger. All book sales will benefit BookWoman in Austin, celebrating 45 years as the only feminist bookstore in Texas. Live closed captions are available for all Google Chrome users.
Register now to save your spot.
About Elizabeth McCracken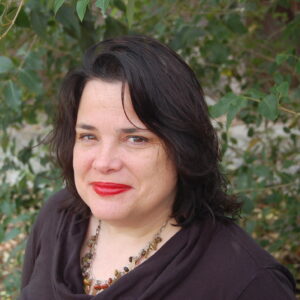 Elizabeth McCracken is the author of seven books: Here's Your Hat What's Your Hurry, The Giant's House, Niagara Falls All Over Again, An Exact Replica of a Figment of My Imagination, Thunderstruck & Other Stories, Bowlaway, and the recently published collection of short stories The Souvenir Museum. She's received grants and fellowships from the Guggenheim Foundation, the National Endowment for the Arts, the Liguria Study Center, the American Academy in Berlin, the Fine Arts Work Center in Provincetown, and the Radcliffe Institute for Advanced Study. Thunderstruck & Other Stories won the 2015 Story Prize. Her work has been published in The Best American Short Stories, The Pushcart Prize, The O. Henry Prize, The New York Times Magazine, and many other places.
About BookWoman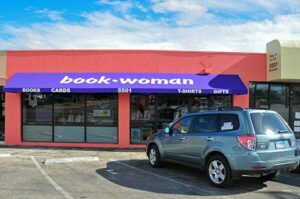 BookWoman began 45 years ago in an upstairs shop on Guadalupe.
It started out as a collective called The Common Woman Bookstore (based on the Judy Grahn poem). From there, the store moved into Susan Post's house at the time, and the collective eventually dissolved.
The store took on the name BookWoman and moved to 6th Street. After that, BookWoman moved to 12th and Lamar, and since 2008 the store has been located at 5501 North Lamar.
About American Short Fiction
American Short Fiction, Inc.'s mission is to be a diverse, inclusive, and discerning publisher of today's best literary short fiction. We believe that reading and writing are transformative acts and that literature has the power to change the way we see ourselves, our world, and our place in it. We strive to support established and emerging writers and advance the literary arts, both nationally and within our Austin community, and regularly host events that are free and open to the public.
Sponsors
This project is supported in part by the Cultural Arts Division of the City of Austin Economic Development Department, the Texas Commission on the Arts, and the National Endowment for the Arts.